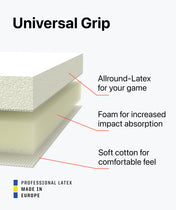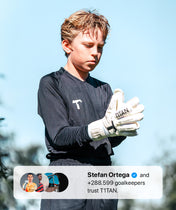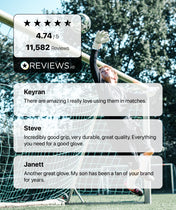 Stefan Ortega (Manchester City F.C.) and +298.148 goalkeepers trust T1TAN
Classic 1.0 White-Out Junior (FP)
Kids goalkeeper gloves with finger protection
Trusted by Premier League goalkeepers
THE GLOVE FOR THE LITTLE UP-AND-COMING KEEPERS
Today's pros were young once, too: That's why your kid should play with the right material. The CLASSIC 1.0 Junior has been specially designed for children's hands.
Age-appropriate finger protection.
The extra flexible protectors protect the fingers when punching and reduce unintentional overstretching. At the same time, the thumb has full freedom of movement. This actively reduces injuries - even during hard shots.
Top material for the next generation.
Perfect fit, convincing grip and long durability. Our kids goalkeeper gloves are packed with great features.
Durable Universal Grip.
Makes your kid a power in goal: the special 3mm Universal Grip ensures a reliable grip. The high-quality adhesive foam is especially abrasion-resistant and durable.
Comfortable and lightweight.
Inspired by our top models, made for kids: thanks to a latex backhand the glove is comfortable and light at the same time. Optimal, for small children's hands.
Increased catching surface.
Best chances to parry any ball: Thanks to seams on the outside, the catching surface is now particularly large. This makes catching balls successfully even easier.
Punching Zone.
More control for your child: The latex Punching Zone allows even more targeted punching. For even better cushioning, even during intense games.
Stable Latex Strap.
Through the use of a latex strap, the T1TAN CLASSIC 1.0 Junior noticeably has more catching surface and a lot of stability at the wrists.
Made for any weather.
The glove for every game. This model was developed for the demanding universal use. No matter whether it's wet or dry: your child only needs this glove to be prepared for everything.
Tech specs
Cut

Flat Cut

Fit

Regular

Latex

3mm Universal Grip

Gussets

Textil

Grip Protection

❌

Body Material

Mesh/Latex

Punching-Zone

Latex

Closure

Latex

Wrapped Thumb

✅

Finger protection

✅

Grip

⭑⭑⭑⭒⭒

Shock absorption

⭑⭑⭑⭑⭑

Abrasion resistance

⭑⭑⭑⭑⭑

Suitable for

Grass & artificial turf
FAQ
Professionals normally only use our goalkeeping gloves for a few weeks, since the demands at this level are extremely high. At T1TAN, you get the same quality as the professionals do.

At amateur level, most goalies use 3-4 pairs of goalkeeping gloves a year. Therefore, you can assume a working life of 3-4 months. Optimum care and technology can increase this working life.

Please note that abrasion can start to occur from the very first use. Nevertheless, the gloves can still be used for 3-4 months.

Do you need help in finding the right size for you? Then just send us a message at support@t1tan.co.uk or look directly here in the corresponding table:

The carriage costs and delivery time depend upon the country to which the order will be sent. You can find details of the respective carriage costs and delivery times.

If you would like to send the gloves back, then you can do so free of charge.
It is of utmost importance to us that your products are shipped safely and reliably.
That is why we send packages exclusively via DHL.
The moment your package has been shipped, you will receive a tracking link either via e-mail or Facebook Messenger so that you can track your package online.
Global carriage costs

| Country | Price | Free Shipping | Duration in Business Days |
| --- | --- | --- | --- |
| United Kingdom | 9,90£ | from 100£ | 3-5 |
| Gibraltar, Irland, Isle of Man, Jersey, Georgien, Guernsey, St. Helena | 9,90£ | from 100£ | 2-4 |
Important information for deliveries to non-EU countries, except UK: When shipping to non-EU countries, additional taxes or costs (e.g. customs duties) may be incurred as part of your order, which are not paid by us or invoiced by us, but must be paid by you directly to the relevant customs or tax authorities. For details, please contact the relevant authorities.
Find the right size for your hands.
Just measure the base of your middle finger to the tip of your finger.
Enter your size and email address and we will write to you as soon as this item is available again.