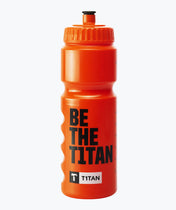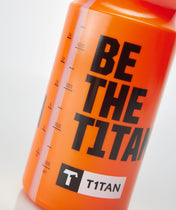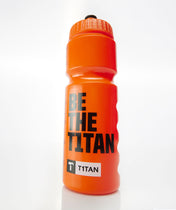 Stefan Ortega (Manchester City F.C.) and +298.111 goalkeepers trust T1TAN
Water Bottle
Trusted by Premier League goalkeepers
SUSTAINABLE & BIOBASED!
A light water bottle made of 90% sugarcane instead of petroleum.
Equipped with a screw top for easy refilling and a push-pull mouthpiece, our water bottle is an accessory no keeper can go without.
COMPLETELY LEAKPROOF: The push-pull mouthpiece supplies you with the water you need without leaking any excess.
CONVENIENT: You can hold the bottle securely and comfortably in one hand thanks to its asymmetric design.
LESS CO2 + RECYCLABLE: Since sugarcane absorbs CO2 you are actively reducing your carbon footprint, all while enjoying the fantastic features of this recyclable bottle.
Tech specs
Contents

750ml

Ingredients

90% sugarcane
It is of utmost importance to us that your products are shipped safely and reliably.
That is why we send packages exclusively via DHL.
The moment your package has been shipped, you will receive a tracking link either via e-mail or Facebook Messenger so that you can track your package online.
Global carriage costs

| Country | Price | Free Shipping | Duration in Business Days |
| --- | --- | --- | --- |
| United Kingdom | 9,90£ | from 100£ | 3-5 |
| Gibraltar, Irland, Isle of Man, Jersey, Georgien, Guernsey, St. Helena | 9,90£ | from 100£ | 2-4 |
Important information for deliveries to non-EU countries, except UK: When shipping to non-EU countries, additional taxes or costs (e.g. customs duties) may be incurred as part of your order, which are not paid by us or invoiced by us, but must be paid by you directly to the relevant customs or tax authorities. For details, please contact the relevant authorities.