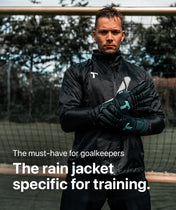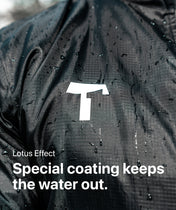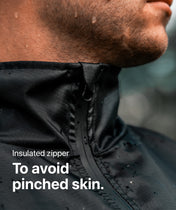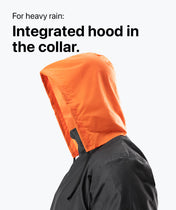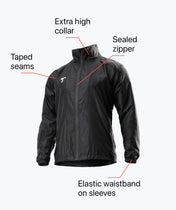 Stefan Ortega (Manchester City F.C.) and +298.111 goalkeepers trust T1TAN
Rain jacket
Windproof & water repellent rain protection for training.
Trusted by Premier League goalkeepers
Face the storm. And the rain.
Zip it up and you'll be safe in the next downpour. And everything else that's going to hit you and your goal. Clean, slick and black. Nothing, but nothing at all, distracts from you and your next air show. And when you're in constant use for 90 minutes? No matter, our rain jacket lets nothing in, but everything out. No matter how sweaty it gets. Next rain battle? Let's go!
Reliable Raindrop Stop Coating.
Every attack rolls off you. On our special coating every single drop. No matter whether drizzle, heavy rain or downpour.
Rip-stop for extreme stress.
Defense above. Defense down. Through the air. Through the mud. The extremely durable, maximum tear-resistant rip-stop fabric withstands everything. Maximum load - just like you.
Breathable Double-Mesh Performance.
Double-layer mesh is the one-way street of fabrics. Lets nothing in. But lets everything out when things get sweaty. At the same time. Double mesh from cooling down during rest phases.
No wet spots.
Shows zero weakness: waterproof zippers, taped seams, tight-fitting flex cuffs, the rubber cord at the end hem and a high collar with integrated hood in T1TAN coloring protect you in the team from wind and weather.
Put them all in your pocket.
The energy bar or the cheat sheet for the next penalty kick stay just as dry as you do. And in the two almost invisible side pockets.
Dream clean.
Uncompromising against wetness and no compromise on design. Zippers are covered for a clean look.
It is of utmost importance to us that your products are shipped safely and reliably.
That is why we send packages exclusively via DHL.
The moment your package has been shipped, you will receive a tracking link either via e-mail or Facebook Messenger so that you can track your package online.
Global carriage costs

| Country | Price | Free Shipping | Duration in Business Days |
| --- | --- | --- | --- |
| United Kingdom | 9,90£ | from 100£ | 3-5 |
| Gibraltar, Irland, Isle of Man, Jersey, Georgien, Guernsey, St. Helena | 9,90£ | from 100£ | 2-4 |
Important information for deliveries to non-EU countries, except UK: When shipping to non-EU countries, additional taxes or costs (e.g. customs duties) may be incurred as part of your order, which are not paid by us or invoiced by us, but must be paid by you directly to the relevant customs or tax authorities. For details, please contact the relevant authorities.
Enter your size and email address and we will write to you as soon as this item is available again.